A real asset to the garden, All Dressed Up™ delivers everything you could want in a rose. Big, soft pink blooms reliably bear 35+ petals each for a very full appearance, and they appear in abundance throughout the long growing season. Old-fashioned in form, this English-type variety features clean, mid green foliage, an upright, well-branched growth habit and high-centered flowers that are perfect for fresh arrangements. They also have a uniquely crisp, green apple fragrance that makes visiting the garden a real treat. Plus, this wonderful rose has something most Grandifloras cannot boast—excellent resistance to the diseases that often plague roses. Growing at a moderate rate once established, All Dressed Up reaches a height of up to 5' tall with a 4' spread. Planted in groups, they make a fantastic display, and would be perfect for a hedge. Drought tolerant. Attracts beneficial pollinators to the landscape. Bred by Christian Bedard.
Rosa WEKgrasucejuc PPAF

Is Jumbo the Way to Go?
This rose is available in a Jumbo Bareroot size. Ideal for gardeners who hate to wait, jumbo bareroots have a considerable head start over our standard #1 size.

Jumbo bareroot benefits:
Field grown 2-3 times the size of standard #1 bareroot
You'll receive a hefty bareroot with 6-9 "flower ready" canes
150% more blooms in the first year, guaranteed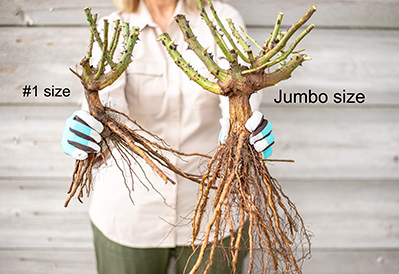 We ship this item in Spring
sku: 65510
Ships in Spring
Out Of Stock
Product Details
Offer Size :

Jumbo Bareroot
Shipping Information
Plants will be shipped at the proper planting time for your area of the country using the shipping timeframes outlined below. We continually monitor weather conditions for extreme hot or cold and adjust shipping schedules as needed. Due to hot weather conditions, we are unable to ship most plant items in July and August.
Roses
Zones
First Ship Date
Last Ship Date
3A-4B
4/10/2023
6/16/2023
5A
3/27/2023
6/16/2023
5B
3/13/2023
6/16/2023
6A-6B
2/27/2023
6/16/2023
7A-7B
5/20/2023
6/16/2023
8A-8B
2/13/2023
5/26/2023
9A-10B
1/16/2023
5/26/2023
Customer Reviews