With a gorgeous blend of phlox pink and canary yellow double blooms—boasting a 40-45 petal count—this Chicago native is a deeper toned mutation of the famous Peace Rose displaying the best color east of the Rockies! Once gracing your prized borders or pretty patio containers, Chicago Peace Hybrid Tea Rose requires a meer monthly feeding of rose food until late summer to keep up appearances. This formal invitation to butterflies will not only impress aesthetically, Its extended bloom time will afford endless opportunities for bouquet-gifting and in-home enjoyment.
Rosa cv. 'Chicago Peace'
Is Jumbo the Way to Go?
This rose is available in a Jumbo Bareroot size. Ideal for gardeners who hate to wait, jumbo bareroots have a considerable head start over our standard #1 size.
Jumbo bareroot benefits:
Field grown 2-3 times the size of standard #1 bareroot
You'll receive a hefty bareroot with 6-9 "flower ready" canes
150% more blooms in the first year, guaranteed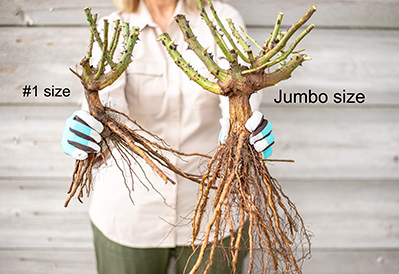 We ship this item in Spring
sku: 81574
Ships in Spring
Out Of Stock
Product Details
Offer Size :

Jumbo Bareroot
Shipping Information
Plants will be shipped at the proper planting time for your area of the country using the shipping timeframes outlined below. We continually monitor weather conditions for extreme hot or cold and adjust shipping schedules as needed. Due to hot weather conditions, we are unable to ship most plant items in July and August.
Roses
Zones
First Ship Date
Last Ship Date
3A-4B
4/10/2023
6/16/2023
5A
3/27/2023
6/16/2023
5B
3/13/2023
6/16/2023
6A-6B
2/27/2023
6/16/2023
7A-7B
5/20/2023
6/16/2023
8A-8B
2/13/2023
5/26/2023
9A-10B
1/16/2023
5/26/2023
Customer Reviews