This top-of-the-line red tea rose offers head-turning color and a luxurious velvet texture with each flower. The Chrysler Imperial Hybrid Tea Rose won the All-America Rose Selection award in 1953, and has since cruised its way to a spot in classic American gardens throughout the nation. A hybrid tea rose that truly thrives in hot temperatures, this slick red beauty features long, pointed buds and dark, matte-green foliage. Each "very double" bloom boasts up to fifty petals, with each flower reaching a tremendus size of over four inches. Provide this hybrid tea rose with plenty of water, and it'll reward you with an incredible blooming season.
Rosa 'Chrysler Imperial'
Is Jumbo the Way to Go?
This rose is available in a Jumbo Bareroot size. Ideal for gardeners who hate to wait, jumbo bareroots have a considerable head start over our standard #1 size.
Jumbo bareroot benefits:
Field grown 2-3 times the size of standard #1 bareroot
You'll receive a hefty bareroot with 6-9 "flower ready" canes
150% more blooms in the first year, guaranteed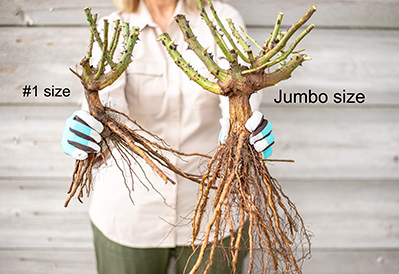 We ship this item in Spring
sku: 81575
Ships in Spring
Out Of Stock
Product Details
Offer Size :

Jumbo Bareroot
Shipping Information
Plants will be shipped at the proper planting time for your area of the country using the shipping timeframes outlined below. We continually monitor weather conditions for extreme hot or cold and adjust shipping schedules as needed. Due to hot weather conditions, we are unable to ship most plant items in July and August.
Roses
Zones
First Ship Date
Last Ship Date
3A-4B
4/10/2023
6/16/2023
5A
3/27/2023
6/16/2023
5B
3/13/2023
6/16/2023
6A-6B
2/27/2023
6/16/2023
7A-7B
5/20/2023
6/16/2023
8A-8B
2/13/2023
5/26/2023
9A-10B
1/16/2023
5/26/2023
Customer Reviews