Consider this All-America Selections award-winning garden performer when planting a new moon garden or freshening up an existing bed. An upright, compact plant, Easy Spirit bears an abundance of large, full blooms in a classic shade of creamy white amid plenty of glossy green, clean foliage. The flowers are so full, in fact, that they can easily be seen from a distance or even at night when the moon is out. Butterflies will be drawn to their fragrance while you will be lured to the garden by their light, bright color and a flower that keeps its old-fashioned form throughout the extended growing season. They make wonderful fresh floral arrangements and show-stopping bouquets, too. Easy to grow and maintain; tolerant of many soil types, so long as it is well drained. Bred by Tom Carruth.
Rosa 'WEKmereadoit'
PPAF
Is Jumbo the Way to Go?
This rose is available in a Jumbo Bareroot size. Ideal for gardeners who hate to wait, jumbo bareroots have a considerable head start over our standard #1 size.
Jumbo bareroot benefits:
Field grown 2-3 times the size of standard #1 bareroot
You'll receive a hefty bareroot with 6-9 "flower ready" canes
150% more blooms in the first year, guaranteed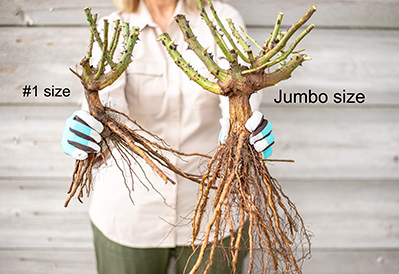 We ship this item in Spring
sku: 81587
Ships in Spring
Out Of Stock
Product Details
Offer Size :

Jumbo Bareroot
Shipping Information
Plants will be shipped at the proper planting time for your area of the country using the shipping timeframes outlined below. We continually monitor weather conditions for extreme hot or cold and adjust shipping schedules as needed. Due to hot weather conditions, we are unable to ship most plant items in July and August.
Roses
Zones
First Ship Date
Last Ship Date
3A-4B
4/10/2023
6/16/2023
5A
3/27/2023
6/16/2023
5B
3/13/2023
6/16/2023
6A-6B
2/27/2023
6/16/2023
7A-7B
5/20/2023
6/16/2023
8A-8B
2/13/2023
5/26/2023
9A-10B
1/16/2023
5/26/2023
Customer Reviews