Unlike older, finicky roses, this variety is exceptionally disease resistant and much easier to grow. It produces beautiful buds all season that'll swirl open to large, high-centered double blooms. In our exclusive jumbo size, you'll enjoy many more blooms in the first year—ideal if you're hoping to bring roses to your cutting garden. This grandiflora's bicolored blooms carry a sweet pear perfume, which is simply enchanting in a vase. The jumbo bareroot will arrive with more branches that are thicker, as well—so it will quickly fill out into the desired rosebush shape, complete with lush, glossy green foliage. Quantities of our exclusive jumbo-size Miss Congeniality bareroot are very limited.
Rosa 'WEKpurmebep'
PPAF
Is Jumbo the Way to Go?
This rose is available in a Jumbo Bareroot size. Ideal for gardeners who hate to wait, jumbo bareroots have a considerable head start over our standard #1 size.
Jumbo bareroot benefits:
Field grown 2-3 times the size of standard #1 bareroot
You'll receive a hefty bareroot with 6-9 "flower ready" canes
150% more blooms in the first year, guaranteed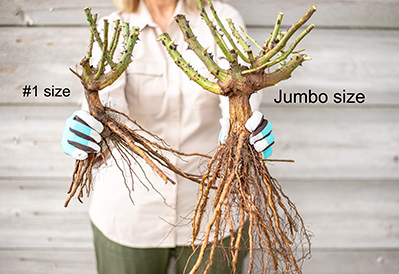 We ship this item in Spring
sku: 66002
Ships in Spring
Out Of Stock
Product Details
Offer Size :

Jumbo Bareroot
Shipping Information
Plants will be shipped at the proper planting time for your area of the country using the shipping timeframes outlined below. We continually monitor weather conditions for extreme hot or cold and adjust shipping schedules as needed. Due to hot weather conditions, we are unable to ship most plant items in July and August.
Roses
Zones
First Ship Date
Last Ship Date
3A-4B
4/10/2023
6/16/2023
5A
3/27/2023
6/16/2023
5B
3/13/2023
6/16/2023
6A-6B
2/27/2023
6/16/2023
7A-7B
5/20/2023
6/16/2023
8A-8B
2/13/2023
5/26/2023
9A-10B
1/16/2023
5/26/2023
Customer Reviews