Not sure which rose to pick? We can help! Blooming with new flowers from spring until autumn, Hybrid Tea Rose, part of Spring Hill Nurseries' collection of Our Choice Jumbo Roses, is superior for cutting as it mimics those seen in florist shops. Hybrid tea roses are the original modern garden rose, and they're a favorite among gardeners for good reason. Hybrid tea roses are known for their sweet-but-spicy fragrance, and for their everblooming nature. These outstanding roses bloom from spring to autumn, with new flowers replacing spent blooms, and blooms sprouting from both new and old wood. You'll fall in love with the hybrid tea rose we choose for you, whether you place it against a wall, along a fence, or in a cluster with other perennial plants. These jumbo hybrid teas offer huge, florist-quality blooms with pointed buds that unfurl slowly. The next time you need a dozen roses, pick these!
Rosa
Is Jumbo the Way to Go?
This rose is available in a Jumbo Bareroot size. Ideal for gardeners who hate to wait, jumbo bareroots have a considerable head start over our standard #1 size.
Jumbo bareroot benefits:
Field grown 2-3 times the size of standard #1 bareroot
You'll receive a hefty bareroot with 6-9 "flower ready" canes
150% more blooms in the first year, guaranteed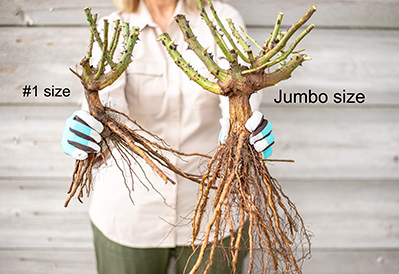 We ship this item in Spring
sku: 81553
Ships in Spring
Out Of Stock
Product Details
Offer Size :

Jumbo Bareroot
Shipping Information
Plants will be shipped at the proper planting time for your area of the country using the shipping timeframes outlined below. We continually monitor weather conditions for extreme hot or cold and adjust shipping schedules as needed. Due to hot weather conditions, we are unable to ship most plant items in July and August.
Roses
Zones
First Ship Date
Last Ship Date
3A-4B
4/10/2023
6/16/2023
5A
3/27/2023
6/16/2023
5B
3/13/2023
6/16/2023
6A-6B
2/27/2023
6/16/2023
7A-7B
5/20/2023
6/16/2023
8A-8B
2/13/2023
5/26/2023
9A-10B
1/16/2023
5/26/2023
Customer Reviews