Elegant blooms evoke hand-painted porcelain
Add a dash of sophistication and a blush of colour to your cottage garden, rose bed or flower border with this elegant variety from celebrated breeder Christian Bédard. Its lovely buds unfurl to release classically shaped, 3½–4" blooms with 25 to 30 petals apiece and enough sweet fragrance to attract butterflies and other pollinators. Each flower has a butter-yellow centre, a white base and light pink outer petals, giving it the look of delicate, hand-painted porcelain. This is an upright, moderately spreading rose with attractive, dark green foliage. Offers good resistance to powdery mildew and rust fungus.
Is Jumbo the Way to Go?
This rose is available in a Jumbo Bareroot size. Ideal for gardeners who hate to wait, jumbo bareroots have a considerable head start over our standard #1 size.
Jumbo bareroot benefits:
Field grown 2-3 times the size of standard #1 bareroot
You'll receive a hefty bareroot with 6-9 "flower ready" canes
150% more blooms in the first year, guaranteed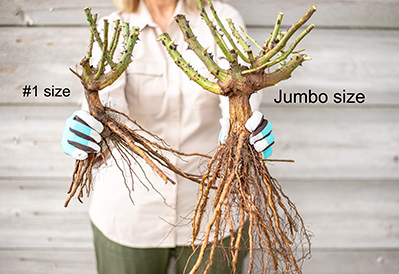 We ship this item in Spring
sku: 81611
Ships in Spring
Product Details
Offer Size :

Jumbo Bareroot
Shipping Information
Plants will be shipped at the proper planting time for your area of the country using the shipping timeframes outlined below. We continually monitor weather conditions for extreme hot or cold and adjust shipping schedules as needed. Due to hot weather conditions, we are unable to ship most plant items in July and August.
Roses
Zones
First Ship Date
Last Ship Date
3A-4B
4/10/2023
6/16/2023
5A
3/27/2023
6/16/2023
5B
3/13/2023
6/16/2023
6A-6B
2/27/2023
6/16/2023
7A-7B
5/20/2023
6/16/2023
8A-8B
2/13/2023
5/26/2023
9A-10B
1/16/2023
5/26/2023
Customer Reviews