Beauty and versatility go hand in hand with this lovely rose. Depending on how it is pruned, Pink Freedom will easily adapt to borders, can create a wonderful focal point planting, or grow into a delightful flowering hedge. Plus, no matter how it is used, you'll be presented with an abundance of stunning 3½" blooms that are perfect for cut-flower arrangements. Pink Freedom roses open fully to exhibit an old-fashioned form and sunny yellow throats. They are very easy to grow and attract butterflies to the landscape for an extra touch of charm. Rosa 'WEKpumpahor'
We are delighted to announce that Pink Freedom Rose has won the 2022 American Rose Trials for Sustainability Master Rose Award as well as American Garden Rose Selections™ 2022 Regional Choice Award in four regions - Northeast, Northwest, South Central, and Southeast!

Is Jumbo the Way to Go?
This rose is available in a Jumbo Bareroot size. Ideal for gardeners who hate to wait, jumbo bareroots have a considerable head start over our standard #1 size.
Jumbo bareroot benefits:
Field grown 2-3 times the size of standard #1 bareroot
You'll receive a hefty bareroot with 6-9 "flower ready" canes
150% more blooms in the first year, guaranteed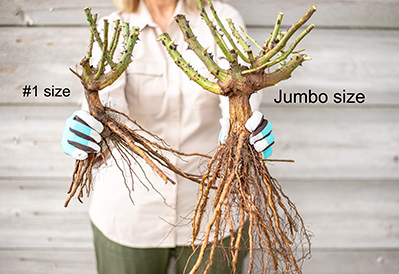 We ship this item in Spring
sku: 91210
Ships in Spring
Out Of Stock
Product Details
Offer Size :

Jumbo Bareroot
Shipping Information
Plants will be shipped at the proper planting time for your area of the country using the shipping timeframes outlined below. We continually monitor weather conditions for extreme hot or cold and adjust shipping schedules as needed. Due to hot weather conditions, we are unable to ship most plant items in July and August.
Roses
Zones
First Ship Date
Last Ship Date
3A-4B
4/10/2023
6/16/2023
5A
3/27/2023
6/16/2023
5B
3/13/2023
6/16/2023
6A-6B
2/27/2023
6/16/2023
7A-7B
5/20/2023
6/16/2023
8A-8B
2/13/2023
5/26/2023
9A-10B
1/16/2023
5/26/2023
Customer Reviews