A flower color unlike any you've seen before—the dark orange petals have a white reverse and when the weather cools, smoky purple shades overtake it. This unusual color-change effect is a surefire way to shake up your fall garden, and since we've cultivated a selection of exclusive jumbo-size bareroots, you can have that striking fall display in the very first year. These bareroots have thicker branches and roots, which allow them to form a rounded shrub with at least twice the blooms as the industry's premium #1 bareroot could produce in its first year. Then, it will continue to mature into a handsome, even and upright bush that won't get spiky. The foliage is unique, too, appearing in a complementary shade of dark green and covering the plant all the way to the ground. As a hybrid tea rose, this variety makes excellent cut flowers, which carry a lovely perfume of tea and spices. Quantities of Smokin' Hot in our jumbo size are very limited.
Rosa 'WEKmopaga'
PPAF
Is Jumbo the Way to Go?
This rose is available in a Jumbo Bareroot size. Ideal for gardeners who hate to wait, jumbo bareroots have a considerable head start over our standard #1 size.
Jumbo bareroot benefits:
Field grown 2-3 times the size of standard #1 bareroot
You'll receive a hefty bareroot with 6-9 "flower ready" canes
150% more blooms in the first year, guaranteed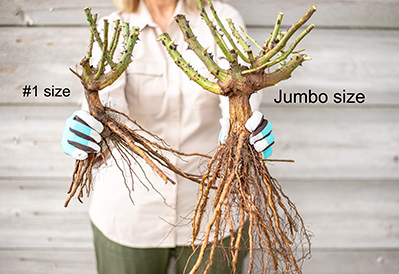 We ship this item in Spring
sku: 75731
Ships in Spring
Out Of Stock
Shipping Information
Plants will be shipped at the proper planting time for your area of the country using the shipping timeframes outlined below. We continually monitor weather conditions for extreme hot or cold and adjust shipping schedules as needed. Due to hot weather conditions, we are unable to ship most plant items in July and August.
Roses
Zones
First Ship Date
Last Ship Date
3A-4B
4/10/2023
6/16/2023
5A
3/27/2023
6/16/2023
5B
3/13/2023
6/16/2023
6A-6B
2/27/2023
6/16/2023
7A-7B
5/20/2023
6/16/2023
8A-8B
2/13/2023
5/26/2023
9A-10B
1/16/2023
5/26/2023
Customer Reviews